---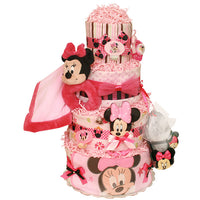 Sale
Hot Pink Minnie Mouse Diaper Cake
Diaper Cakes Mall
Sale price $176.00 Regular price $186.00
Four tiers Hot Pink Minnie Mouse Diaper Cake is a great baby shower gift and a gorgeous centerpiece for a Minnie Mouse themed baby shower. Can also be used to welcome a new baby in the hospital room. This diaper cake is made of 60-70 Huggies Snug&Dry diapers size 1 (7-14 lbs.); Four flannel receiving blankets 100% Cotton; Two Minnie Mouse pacifiers; Two Minnie Mouse pacifier's holders; one Minnie Mouse security blanket toy; one pair of Minnie Mouse soft shoes; One teether toy; one Minnie Mouse rattle toy; one Minnie Mouse bib; one hot pink headband; one JOHNSON'S HEAD-TO-TOE Baby Wash (Bathe your baby in pure gentleness) 1 fl oz; one JOHNSON'S Baby Powder Pure Cornstarch with Aloe Vera & Vitamin E (Gently absorbs excess wetness to keep skin dry and soft) 1 1/2 oz; one DESITIN Creamy (A creamy formula with Aloe & Vitamin E to prevent and treat diaper rash) 1/8 oz; lots of ribbons and bows.

The diapers are held together by elegant ribbons (no glue on diapers). Ribbons are hand-stitched with white embroidery floss on the back of the cake, allowing for a clean, handmade look. Decorated using pins, ribbons, bows, embellishments and pink crinkle paper.

This cake sits on a 10" corrugated cake board and more than 17" high. Comes wrapped in cellophane with coordinating ribbons and bows. All our diaper cakes made of highest quality ingredients with greatest care and love. Everything included is ready to use and easy to disassemble.
Highest Quality Diapers
For all our diaper cakes we use the
highest quality diapers
. Usually diapers from size one to size two used to build our cakes. We handle all the diapers with care and in absolutely clean conditions. We take
great care in sealing and packaging
our cakes to insure that all cakes look great when delivered and all diapers are clean and ready to use. It is very easy to disassemble our cakes for actual use of all included items.
$10 flat rate shipping for all items
All diaper cakes from DiapercakesMall.com are carefully packed and secured in
high quality shipping boxes
to ensure best possible look right out of the packaging. You should be able to enjoy all the beauty of our high quality diaper cakes
right out of the box
.
We try to ship your order next business day. Our standard $10 flat shipping rate applies to all orders and we ship UPS Ground. Check our Shipping Policy page for estimated arrival date of your order.
100% Diaper Cake Mall Satisfaction Guarantee
We want you to be absolutely thrilled with our diaper cakes.
If you are not satisfied, we will exchange or refund your order. Our goal is to make baby showers memorable and original. We have great feedback from our clients. And we are looking forward to receive it from you too. Our detailed
return policy
.